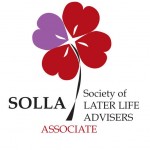 We are delighted to announce that Edwina Hudson, our later life financial adviser, has been accepted into the Society of Late Life Advisers (SOLLA) as an associate member.
SOLLA aims to assist consumers and their families in finding trusted accredited financial advisers who, understand financial needs in Later Life.
Now more than ever what is needed is not simply a well qualified financial adviser but somebody who you feel you can rely upon to understand the plans you need to make for your retirement years and the complexities of the many decisions you may need to face when looking at issues such as care funding matters SOLLA links you with an adviser who can help you find solutions that work for you and where they are involved, your family too.
Financial advice should take you to the stage where you can make clear and informed decisions, happy in the knowledge that you had all the information and choices you needed to reach those decisions.
The Society is dedicated to linking those who need advice to accredited Later Life Advisers who can advise on:
Equity release
Long term and respite care options
Annuities
Investments and savings
Tax planning (IHT)
Later Life Advisers specialise in the financial needs of older people. Professional qualifications whilst essential are unlikely to give the full picture of an adviser expertise. Those advisers who have taken the further steps to become independently accredited can offer the added reassurance that they offer the practical help and guidance needed to make the right decisions at the right time. Why would anyone choose an adviser with anything less?
The Later Life Adviser Accreditation Scheme is audited and endorsed by the standard-setting body the Financial Skills Partnership (FSP) and was developed in collaboration with the specialist financial services consultancy SVARfair.
If you or a relative are concerned about your later life fi